Posted by

AAG Insurance Enterprises

on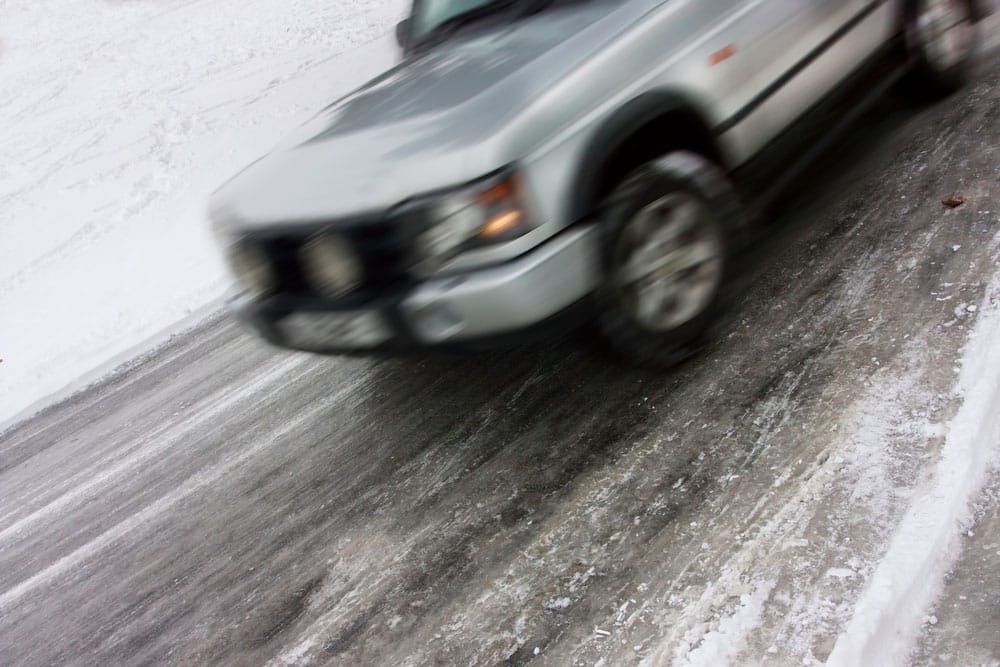 Each year, the winter season brings a number of problems when it comes to driving. From sleet to rain that freezes right when it hits the roads to actual snowfall, winter weather conditions in different areas of Maryland can make it difficult to drive around. However, black ice or icy roads are some of the most difficult and dangerous conditions to drive in.
According to the US Department of Transportation – Federal Highway Administration, more than 24% of weather-related auto accidents in the US happen in winter. Moreover, 15% of these accidents happen on icy pavements. In terms of casualties, more than 116,800 people get injured, and 1,300 people die in accidents caused by icy pavements and slushy snowfall. Even though there are no definitive statistics for accidents caused by black ice, it is not hard to assume that a majority of these accidents are caused by it.
With the outcomes of driving on black ice not being in the driver's favor, the best advice is to wait it out and stay at home. However, there might be circumstances where you need to drive somewhere, e.g. to a hospital or to help a friend or family member out.
To brave the roads when they are covered with black ice, you need to prepare by arming yourself with information regarding its dangers.
Black Ice
According to The Weather Channel, black ice is a thin coat of ice that forms on the surface of roads and pavements. Even though it is called black ice, it has no color and is highly transparent. It is called black ice because its transparency allows the color of the pavement, which is often black, to show up on the surface.
The fact that makes black ice hard to spot and avoid is because it doesn't look like ice. It is so thin that it makes the pavement or road look like it's just wet because of a water puddle. There is an exception of only a few air bubbles. Otherwise, black ice is innocuous.
How it forms
Most commonly, black ice forms when the temperature drips to the point the surface of the road reaches freezing. Falling sleet or rain freezes and forms ice immediately as it hits the surface.
Black ice typically occurs during the evening hours, and the sun melts it during the day. When the temperature drops again during the subsequent evening, the water or moisture refreezes to form black ice.
You can find black ice on roads and pavements where sunlight doesn't reach every day, in tunnels, underpasses, and bridges. Any surface that doesn't get enough sunlight and the temperature stays below freezing temperatures.
Spotting it
Black ice is known for being hard to spot, making it one of the most difficult conditions to drive in. Keep track of the temperature outside with the external temperature display in your car. If the temperature is below freezing, any wet spots on the road might be black ice.
When it comes to knowing when you're driving on black ice, the first thing you'll notice is when your car starts to slide a little bit due to lost traction. Even the smallest shift in steering will cause an exaggerated response.
The best idea is to avoid black ice, and possible accidents is to avoid driving during these conditions. However, since black ice is hard to spot and avoid at the moment, here are some tips to be safe when you encounter black ice:
Slow Down
Since ice reduces the amount of friction between the tires and the road, the car can slip and skid quite easily. So the first thing you want to do is slow your car's speed and go over the patch of ice very steadily.
Another thing you want to ensure is that you keep the steering wheel straight. If you try to turn your car on black ice, you risk the chance of losing control and the car skidding and swerving. In short, if you see a patch of black ice or have encountered one already, step your foot off the accelerator and keep the steering wheel straight. Remember, slow and steady wins the race!
Don't Slam the Breaks Immediately
This tip is extremely important when it comes to driving on black ice. Slamming breaks on black ice will cause the car to slide even more speedily due to the lack of friction. Unlike snow, the sheet of ice is so smooth that it prevents the tires from sticking on to anything. If you have already driven on black ice or want to slow down a little because you've spotted it, try pumping your brake a little instead of slamming them.
Learn how to Handle a Skidding Car
If you live in a location where it gets below freezing every winter, learn how to handle a skidding car. One of the biggest mistakes people make to control a skidding car is overcorrecting it. Doing so is not a safe technique as it pushes the car to spin and skid even further in the other direction.
If your car is turning and skidding in one direction, you need to steer in the same direction gently. Once the tires find normal road and traction once again, straighten out the wheel. If you panic and try steering in the opposite direction of the car, you can risk losing all control.
Also, try to slow the car down and shift to a lower gear which will give you more control of the car so you can steer it back to find some traction.
Lastly, we've already mentioned keeping a close check on the outside temperature. If the temperature drops below 32 degrees F, use extra precaution when venturing out to drive. Also, tools such as studded snow tires, snow chains, and heavy-duty four-wheelers will not be of so much help against black ice. The smooth icy surface provides no traction, leaving these snow tools useless.
One proactive measure you can take to save yourself from the dire consequences of black ice is to be properly insured. AAG Insurance, based in Maryland, offers insurance solutions that provide the coverage you need in case of an unfortunate accident. Call us today for a free quote.
Filed Under: Auto Insurance